What to Expect From our Data Recovery Process?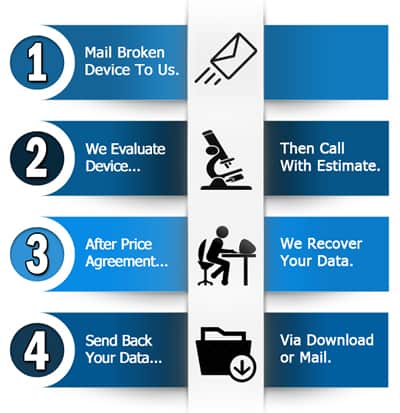 All submitted cases include the following items and 4 Step Process:
Free Evaluation – After analyzing your device, a price quote will be discussed with you.
98% Success Rate On Any Device – eProvided has gained extensive knowledge, skills, and expertise over 20 years performing 1,000s of data recovery cases on so many different storage devices.
ONLY PAY Data Recovery Fees when data is recovered!
Your choice of HOW recovered data is returned to you. A mailed DVD is free of charge.
Turn Around: 2-3 days once it arrives for us to call you, after our "Free Evaluation at our file recovery lab ".
How Much Does Data Recovery Cost?
Basic Data Recovery
Basic Data Recovery is for simple, straight forward recoveries, where easy circuit manipulation or very little microscope lab work is required for data recovery.

Before Starting Any Advanced Recovery Service, We Will Discuss The Cost With You.eProvided
Advanced Data Recovery Services
Advanced Data Recovery is for multiple hours under a microscope environment. It covers repair work, extensive lab time & could require clean room time. The following situations are involved with advanced data recovery cases.
Soldering, circuit repair, logic board work, chip replacement, rewiring work.
Microscope work, algorithm development, error correcting code algorithms (ECC), corrupt data sets and pinout development.
Damaged or failed internal components on bent USB flash drives or damaged or cracked microSD cards as examples.
How Do I Receive My Recovered Data Back in Hand?
You Have 1 Or More Of These Options
1) DVD Shipped To You
Only available if recovered data 4.5GB
This option will be mailing back a DVD disk with your recovered data on it to you, for free.
2) Instant Download
Cost depends on amount of data recovered
More than 32GB**

$50 + $25 each additional 16GB
This option allows you to download your data from a link we provide to you. This is helpful if you do not want to wait on the data being delivered by mail.
3) New USB Drive
Size depends on amount of data recovered
More than 2TB

Call For Price
This option will be mailing back a new USB storage device, where we put your recovered data on it and ship the USB device to you.