What to Expect From our Data Recovery Process?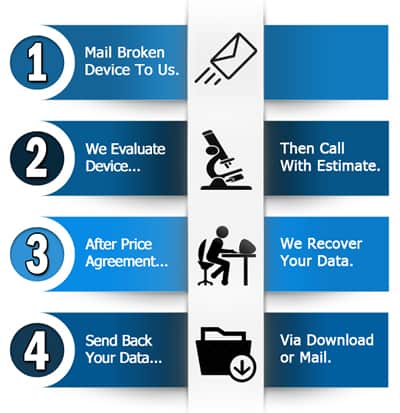 All cases include the following 5-Step Process.
Basic Recoveries Under $100, if more complex we'll let you know upon arrival.
Free Evaluation — After analyzing your device, a price quote will be discussed.
98% Success Rate On Any Device. In fact, eProvided gained extensive knowledge, skills, and expertise over 20 years performing 1,000s of data recovery cases.
In addition, ONLY PAY Data Recovery Fees when data's recovered!
And, your choice of HOW recovered data's returned to you.
Turn Around is 2-3 days once it arrives. We'll call you, after our "Free Evaluation results from our file recovery lab ".
How Much Does Data Recovery Cost?
Basic Data Recovery is for simple, straight forward data recovery. For instance, easy circuit manipulation or microscope lab work's required for data recovery.
Start a Basic Recovery Case Now

Before we Start any Basic or Advanced Recovery Services. We will Always Discuss the Cost with You in Advance.eProvided.Com
Advanced Data Recovery Services
Advanced Data Recovery is for multiple hours under a microscope. In fact, it covers repairs, lab & clean room time. Advanced data recovery, examples.
First, microscope work, algorithm development, error correcting code algorithms (ECC), corrupt data sets and pinout development.
Damaged or failed internal components on bent USB flash drives or damaged or cracked microSD cards as examples.
Finally, micro soldering, circuit repair, logic board work, chip replacement & rewiring.
Start an Advanced Recovery Case Now
Instant Download
Cost dependent on total amount of data recovered.
This optional add-on allows you to download your data from a link we provide. An additional option, helpful if you don't want to wait on data shipped by mail.
New USB Drive (Popular)
Size depends on amount of data recovered.
Option, receive a new USB storage device. We copy the recovered data and ship this USB drive to you.
Our RUSH service means your case's moved to the front of the line. Thus, your data recovery's started as soon as we receive your device. And, it continues until we recover your data or realize the data can't be recovered. We can deliver data electronically anywhere around the globe. In short, this speeds up data recovery. Have questions? Contact us toll-free 866-857-5950.
Data Recovery Services Cost.
It's very important to understand the data recovery services cost. After all, when customers don't understand, they will lose confidence in the job. The complexity of what's damaged, in any file recovery case, determines costs. Costs of data recovery services drop as data recovery companies advance in technology.
Since becoming involved in recovering data for over 20 years, we've seen it all. Solid state drives, when first introduced, were clunky and not manufactured well. We spoke to engineers who designed SSDs. This enhanced our ability to have higher file recovery successes rates.
Thus, back in the early 2000s, we launched a separate SSD recovery website. In fact, it's operating today, Recover-SSD. And, the amount of SMT required for solid state drives to operate has decreased by 50%. Today, data recovery services cost have dropped to benefit consumers. In the end, this made life easier for us as a company and for our customers. After all, we know our clients need to have cost-effective data recovery pricing.
SSD data recovery cost can vary due to the type of technology in producing solid state drives. Costs for SSD recovery can be less expensive than non-SSD based hard drives on average. It depends on what has become damaged on your SSD. In the end it can also be more expensive. For example, if the circuit board has blown circuits, this could be an easy workaround. In particular, we replace the damaged surface mount circuits under a microscope.
Moreover, it gets complicated when surface mount controller chips become damaged or cracked. Controller chips and NAND chips are the key components on SSDs. Thus, these chips need intensive lab work when something goes bump in the night. In the end, if you have questions about SSD data recovery costs, feel free to call our toll-free number.
Hard Drive Recovery Cost.
Hard drive recovery cost is important to keep low. Thus, consumers pay attention to data recovery costs. Larger data recovery companies start at $1,000.00+.
Hard drive recovery cost is the determining factor to your decision-making. eProvided understands you have a price point. Data recovery cost is something we do our best to keep reasonable.
When a customer starts a case, we provide a free evaluation. Once the device arrives, we proceed with a thorough evaluation. Finally, we call you to have a conversation about your data recovery needs. In conclusion, we decide together the best approach to recover the lost or damaged files.