Micro SD Recovery Service
The flash memory storage market grow at a quick clip. MicroSD cards, SD Cards, microSDHC, Monolith Devices, and Flash Cards have become primary storage devices. Therefore if your microSD or SD flash drive becomes broken or bent, eProvided is your one stop solution to get your data retrieved.
Did you lose files on a microSD data storage card? We offer free evaluations on every single retrieval case.
We have the ability to expose the interior circuits of MicroSD cards. eProvided performs data bypasses using Pinout strategies. Data recovery companies will tell you that a MicroSD card is not recoverable when it's no longer recognized. If your computer, camera or cellphone can't see your drive you still have hope. If you need microSD card recovery, we're your solution. eProvided has cutting edge MicroSD data recovery technology. It allows us to connect directly into the heart of MicroSD flash memory storage drives. We stream your lost data directly, out through the microscopic "veins". Every MicroSD device has this possibility! That is if done correctly. This June 2019 we have a special for SD file retrieval, be sure to ask us about it.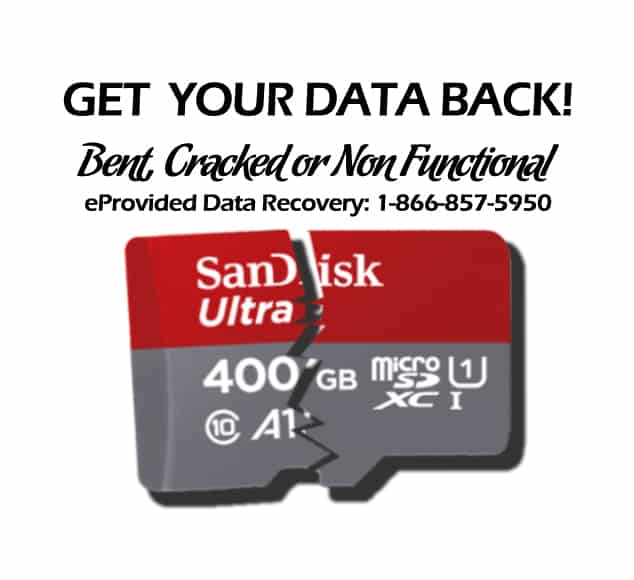 Have a Micro SD Problem?
Use "Click to Chat" Live!
---
Some data recovery companies might say, "once a device is unable to recognize your MicroSD card, recovery is not possible". That's NOT TRUE. For years, eProvided has developed cutting edge technology to perform pinouts on any MicroSD cards. Whatever the damage, we can help. This leads us to a successful recovery 98% of the time. We recover standard SD cards or micro SD cards. This procedure ties into cracked microSD card circuits and extracts the hexadecimal code. In doing this, damaged data can be reconstructed back into files. Get your stuff back!
MicroSD Card Recovery Company Services
eProvided acts as the MAIN LAB (behind the scenes) to many SD & microSD file retrieval companies.eProvided Engineering Lab
A broken SD card can be retrieved. Don't be fooled in thinking you can't get your files recovered. You can't find a more advanced company to handle this for you. Micro SD data recovery services are a click away. Click the orange button at top right of this page to get started.
Monolith & microSD Cards with or Without Cracks.
Many USB Sticks (Thumb drives), and SD Cards are what we call "Monolith" devices. Monolith devices do not use NAND chip(s) to store memory, instead, they have a layer of all-in-one, self-contained circuitry that stores and processes information. The cutting edge technology that we have developed for MicroSD cards can also be used on Monolith devices. Crack or no crack.
Micro SD recovery service is handled right here at eProvided. Monolithic devices, even microSD cards that are cracked ARE recoverable! We also recover files from monolithic USB flash drives. Find out more about USB flash drive data recovery at eProvided.
MicroSD & MicroSDXC Flash Cards.
Most commonly used inside of cell phones, tablets, and various other consumer storage devices. MicroSDXC & MicroSDHC cards come in many shapes and sizes. SDXC (now with 128GB and larger capacities) allows 16-die memory to be stacked. Every layer of a Micro SD is thinner than a piece of paper. Micro SD devices will fail. This is precisely where eProvided can save you many hours or days of work.
eProvided has been recovering data from any type flash storage for over 18 years. Successful file recovery scenarios include, "corrupt data" to "my dog chewed it", "device not recognized" and all the rest. Don't let other microSD data recovery companies tell you your data is unrecoverable! Send it to eProvided. We have unlimited resources to get your files back.