What Type Of Damage Causes Data Loss?
SD cards are a great device to use to add additional storage to your smartphone. SD card recovery service is available for these cards. They can be removed, replaced, upgraded and shared across different electronic devices. This is a solid-state storage device for your smartphone. Most people use SD cards to increase the storage capacity on their phones and free up space on their device. iPhone's have built-in microSD like chips called NAND Flash, while Android users have the option to add a new SD card or upgrade their existing one. So if you have lost data, know what you're up against. File corruption happens, heat or excessive use will break drives.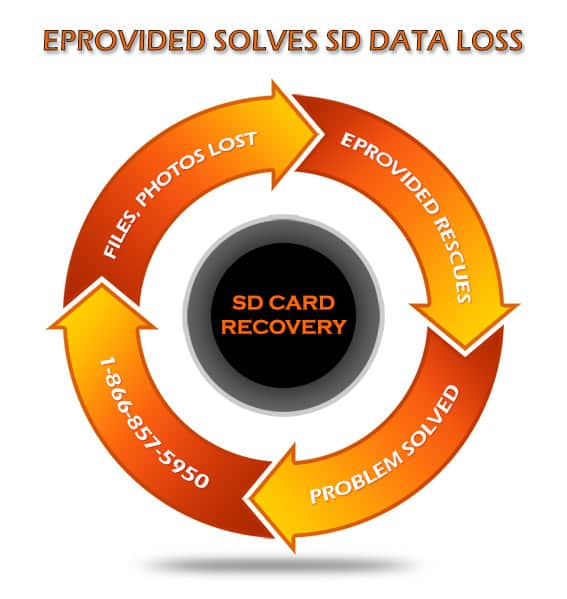 SD cards can hold huge amounts of data including files, text messages, images, and video. Some store 512 GB, which exceeds the storage required by the majority of users. The amount of information that it can hold will often result in users moving all of their data on to the card. As convenient as this is, it is risky to have all of your data stored on to one card. If your SD card breaks, you could potentially lose all of your data. micro SD card recovery service experts specialize in both microSD and standard SD cards. Recovering files on SD cards is crucial, such as when irreplaceable data's corrupted.
Deleted Data.
You find that the files on your card are missing without warning. This is usually the result of some damage that has occurred to your phone or microSD card. Also, you can have conflicting applications that cause data to become deleted, hidden or moved. You can use an SD card retrieval service like eProvided to restore your lost data in many of these cases.
When your SD card becomes damaged, from an error caused by your cellphone, you will have usability issues. SD memory might also break due to external mishaps. Your smartphone device may stop reading the data that is stored on your microSD. Your SD card can be physically bent or broken in half. Another common issue is when the connectors have eroded or become water damaged. This can happen naturally over time and can lead to problems between the card and your device. In these cases, the data is still on your card. The data is just inaccessible to you due to the damage. You can, however, recover files from a damaged SD card.
Why Your Data is at Risk?
As helpful as SD cards are, they do present some risk with the data that you store on it. Recovering files from an SD card, android style. Most phones, especially android phones, have difficulties handling SD cards. Although the memory should generally remain safe, there are instances where a broken microSD card can become unresponsive. When this happens, the data that you have stored on your card may become inaccessible and even deleted. This means you could be at risk of losing all data and files that you have stored on your card. There are, however, ways to use an S.D card recovery service to restore your lost data.
Unresponsive SD Cards.
Your phone can fail to read the data on your SD card due to any number of reasons including damage to the card, damage to the phone, or a program malfunction. This issue is resolvable by a phone restart. If the problem persists, you should consider taking it to a professional SD card recovery company that can help.
SD Card Recovery, What is Recoverable?
All of your data is recoverable depending on the damage to the card. In most cases, a SD card recovery service will help you to recover your lost information. As long as you do not low-level format your microSD card, you should be able to recover your data.
What can I do if I can't access my data?
If you cannot access your SD card, you are asked to reformat it. If this happens, do not reformat. Reformatting your card will erase all the information and files on it. If you're unable to access the data stored on your card, you must contact professionals who can restore SD card files. They will be able to recover your information in most cases. Many times, a user may unintentionally and permanently delete data from their SD card while they are trying to fix it which would have otherwise been recoverable. If you are not an expert at data recovery, it's recommended to call eProvided data retrieval experts who are. Recovering images, and video from unrecognized SD cards, is what we do best.
SD Card Recovery Service!
There are SD card recovery services such as eProvided.Com that specializes in recovering lost data from iPhone's or Android microSD cards. They can recover lost data including images, audio, video, and other files. If you are experiencing any issues with your SD card, you can start a case here, they will help you recover your lost data.
Contacting eProvided Toll Free: 1-866-857-5950.