Do you have broken SD card corruption and require SD card data recovery? Wedding shoots are prone to data loss. The WPPI (Portrait Photographer's Association) conference is held each year in Las Vegas, Nevada. It was stimulating for eProvided SD card recovery professionals to show. And, at inopportune times, photo recovery services are often required. eProvided's SD card recovery professionals are always ready to assist, even in challenging situations. Photo recovery services are often needed when unexpected data loss occurs.
Oddly enough, professional photographers experience digital photo problems often. Primarily, those with a broken SD card will find that SD card data recovery companies like ourselves come in handy. Devices today can become physically damaged. Lost photos are a nightmare. You capture that perfect moment, but the next day, the perfect shots disappear. This is why our physically broken SD card recovery options are amazing.
New memory card devices in 2020-2023 include CFexpress cards and XQD cards. Lost valuable data from a CFexpress card? Don't worry! Our team at eProvided has the expertise and technology to perform CFexpress card data recovery and XQD card data recovery. No matter what the new technology is, if it stores data and breaks, we can get the files back. Sometimes SD card broken plastic pieces prevent a proper data connection. Maybe you can't plug it in anymore. SD card bad disk error?
Broken SD Card Questions & Answers for Professional Photographers.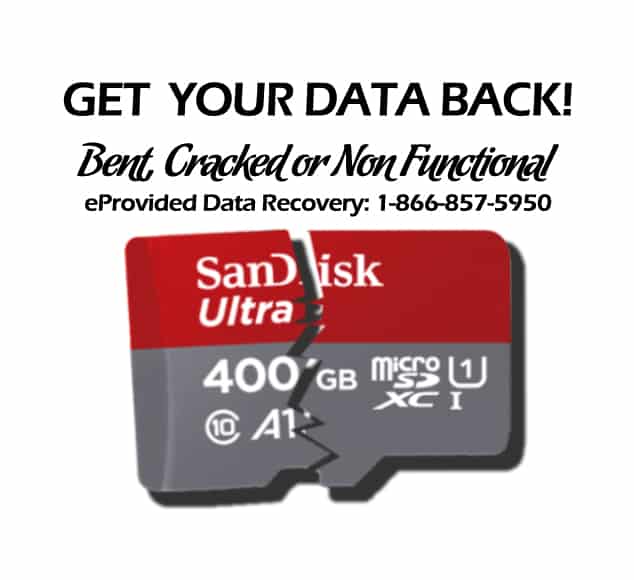 Recovering data from physically broken SD card poses a significant challenge. To start, don't attempt SD card repair alone. It is recommended to contact our file recovery service experts for assistance.. SD card data recovery requires specialized work. Don't attempt to repair broken memory cards yourself. Involving our file recovery experts significantly increases the chances of success in these cases.
Imagine waking up one morning after a photo shoot, eager to review your work, only to discover that all your hard work has vanished. As a result, all the precious images on your SD card at the wedding have been lost. Regrettably, you don't know what to do. You contact your partner, who has no solution. You are advised to reach out to an image recovery company. Now that you realize it, what will I tell my client? As for communicating with your client, it is important to be honest and transparent about the situation. You must admit you require SD card data recovery. We can help. Call 866-857-5950.
For your broken SD card, it's crucial that our engineers assess it in a lab environment. The initial step is crucial. Removing the top layer of the card requires great skill to avoid exacerbating any existing corruption. Additionally, soldering components back together is no simple task. The eProvided team of SD card data recovery professionals boasts both advanced technologies and extensive knowledge to retrieve all your corrupted and deleted files. Trust us to deliver exceptional results.
Broken SD cards are subject to permanent data loss if not handled correctly. Be sure to get caught up on the newest technology. In other words, it's a concern of great magnitude. Corrupted memory card files are of no use. Being the owner of eProvided, I'm fascinated by meeting with attendees. I visited with many wedding photography professionals. If you have not attended, it's a show not to miss in Las Vegas, NV.
Have a Damaged SD Card?
Broken SD Card Recovery Solutions. 
Plugging in a damaged SD card or a bent SD card could result in a few scenarios. For this reason, don't make the situation worse. Recovering SD card options diminish when altering files. When plugging in the SD storage drive, be sure all files are extracted. Finally, if data's not transferring, you need an expert. eProvided will recover your files. Contact us and start the process. Don't continue fussing with the memory device.
SD flash card readers connected via USB ports extract files even if corruption's present. Look at the files that you transferred to your PC. Something looks wrong? Is your SD card lock broken? Sometimes the SD card's locked and gets stuck. You'll need SD card recovery.
Professional file recovery engineers recreate damaged files despite data loss. SD card recovery will bring back your lost photos and files. Call damaged SD card data recovery experts if files are missing.
Repair SD Card Damage.
Repair SD card damage, such as a physically broken or corrupted SD card. Over the last 20 years, our engineers have retrieved thousands of damaged SD cards. Recover crucial files from your unrecognized or broken SD card. Chewed up by a dog or deleted files? Your data has a chance at a successful recovery with the proper knowledge and tools. Photographers and consumers alike benefit from services such as SD card repair. Recover missing photoshoots, weddings, ceremonies, video shoots, and more.
Arguably, not all SD card readers are equal. Shop for high-rated memory card readers. Research programs that allow one to make an image of an entire SD card. If you can make a byte-to-byte image, do so. In fact, this is the first step to preserving your data. Broken SD card recovery is possible. SD card chewed up by a dog? Split SD enclosures and cracked SD card soldering take place in our labs every day. There is nothing we haven't seen. Recover broken SD card data today.
Recovering Damaged Files on Broken SD Cards for Photographers.
As a professional wedding photographer, it is crucial to have a well-thought-out backup plan. Faulty equipment leads to the loss of valuable photos from photo shoots. It's important to note, eProvided does not recommend relying on SD card software for file recovery. In most cases, using file recovery software exacerbates data loss. If you overwrite your files by accident, SD card recovery is not possible. As a result, you may have no solution. So, your photos might disappear forever. A broken SD card will not read, but don't lose hope.
Protect your photos. In fact, contacting our professional SD card data recovery company is the best option. A microSD card recovery expert will handle the entire process. DIY types can damage data or photos forever. Repair SD card breaks or bends with professionals.
Salvaging data from broken memory cards is a daily occurrence at our facility. Not all broken SD cards require damaged SD card recovery. At eProvided, we specialize in accessing the internal components of SD cards to retrieve data directly. Our experts are skilled in advanced techniques to stream data out from damaged SD cards. This ensures the best chance of a successful file retrieval. SD card data recovery is readily available to you.
How to fix corrupted SD card?
Fixing a corrupted SD card is possible. It is recoverable. You have two options. First, find the source of corruption and fix it. A folder name that's too long can cause corruption. Many things cause corruption on SD cards. Second, your SD card may have physical damage. You can try to fix it yourself. It's best to consult our file recovery experts. Recovering physical damage on SD cards requires experience.
Are you dealing with a corrupted SD, a damaged SDXC, or corrupt SDHC card? One might wonder about the differences between these and the microSD, microSDXC, and microSDHC memory cards. Firstly, they are all essentially the same. What matters most is the speed files are written. This is also the approach taken by our SD card data recovery company experts. Our SD card data recovery technicians handle broken cards of any type. You might have a damaged or bent SD, or maybe a corrupted microSD. That being said, it's important to note that the microSD cards are smaller. Smaller mirco SD memory cards require extra care when handling due to their tiny nature.
Furthermore, it's important to handle microSD card damage with care. SD cards are finicky. Our SD card recovery service company can recover photos and recover files. Corruption in file structure is common. Broken SD card retrieval services are lifesavers. In conclusion, even cracked SD cards that won't read are retrievable. Remember, improper handling leads to permanent data loss. Contact eProvided, it's best to leave it to the experts.
What if your SD card is Physically damaged?
How to fix a broken SD card? Damaged SD cards need I.T. experts. SD card data recovery experts specialize in corrupted or damaged SD cards. Our file recovery company manages corrupted SD card recovery cases in a lab environment. Otherwise, specialized tools would be difficult to use.
Physically damaged SD card problems happen from force or bad workmanship. Accidents do happen. What are the two most common corruption causes? Most cases that arrive at eProvided are due to users bending and cracking the SD card. Be careful not to apply force to the micro SD. Corruption happens without warning.
Bad Workmanship.
Random instances of bad workmanship can result in a broken SD card. And, microSD cards can stop working for no reason. This can be a frustrating situation, as a broken SD card can potentially lead to the loss of valuable data. In the end, heat & water damage cause failure & data loss. SD card data recovery, a service eProvided's famous for. eProvided recovered at least 6 missions for NASA since 2000. eProvided has specialists whose sole purpose is restoring data loss from broken SD cards. In short, take advantage of eProvided. Both microSD and standard SD cards fail. eProvided corrupted SD card recovery technicians find & fix damaged circuits to retrieve lost data.
Corrupted SD card recovery, due to bad workmanship, takes place with eProvided engineers. We take each case and diagnose it for free. After, we discuss solutions and methods to retrieve the corrupted files. Corrupted SD card data recovery engineers understand how important your damaged files are.
Your images disappeared? Recover photos from SD card Vs. file recovery. Sometimes, you lose only a photoshoot. Nevertheless, customers lose a mix of data. Corrupted SD card recovery companies have the ability to retrieve any type of lost data.
Types of damage occurring on microSD and SD cards?
SD card damage severity depends on each circumstance. On a microSD flash drive, the inner circuits are tiny. A broken micro SD card can have shorted circuits. A bend on the SD card will break hairline-sized traces in the board. Bends on broken SD cards lead to corrupted SD card recovery necessities. Scratches from blunt trauma require disconnect pads made of gold. By and large, microSD and SD cards suffer from misuse.
To address corrupted SD card problems, the initial step is to assess the condition of your SD card, specifically checking for disconnected connections or damaged circuits. Then, check for shorted circuits. Broken SD card recovery should begin by finding the origin of the problem. Corrupted SD card recovery is best handled by our data recovery company. By examining these factors, you can identify issues affecting the card's functionality and take measures to resolve them.
User error can result in lost files and damaged data. Corrupted data stems from files deleted by accident. And it's common. One common issue that happens is accidental deletions, which cause data to become corrupt. Broken SD card recovery helps consumers and professionals every day. In most cases, the SD card won't read because of internal damage to the circuits or bad workmanship.
Everyone can benefit from damaged SD card recovery services. Contact eProvided's experienced employees at any time to ask questions or get help. Call 866-857-5950. Recover your damaged and missing photos from your broken SD card today. Have questions? Reach out to our SD card recovery engineers.
SD card data recovery experts agree. Arguably, corruption of files on SD flash drives is common. Furthermore, users must take care to back up all their data.
My broken SD card isn't detected, could I recover my data?
The simple answer is yes. In addition, photographers need to contact the client and give them hope. It is important to keep the client informed of any problems. By the same token, keep yourself on top of the case. eProvided data recovery company provides real-time updates on case progress. SD cards break, professional photographers use our professional file recovery company.
As a matter of fact, when an SD card is not detected, eProvided will put the device in a lab. Using a microscope, broken solder joints are soldered back together. Don't try this at home; it's complicated. No doubt, some try, but almost all fail. Our SD card recovery engineers have the experience and advanced technology. The key to a successful recovery is to make sure not to damage the card further. Ultimately, damaging the memory chip itself will lead to an unsuccessful recovery.
Can damaged microSD cards in Android smartphones be recovered like an iPhone?
Of course. Damage from bent microSD cards is similar on Android and iPhone smart phones. Accordingly, the issue will be the same on both a microSD or SD card. Damages, bends, corruption, and cracks often happen on both.
Both Android and iPhones have a microSD card slot. You plug in the storage device (micro SD) into this port. Consequently, smartphone ports become damaged. Actually, taking the time to carefully insert a microSD or microSDXC is quite important. Above all, don't rush anything. Insert SD cards with care.
Ensure optimal performance of your smartphone. Regularly clean storage slots to prevent dust buildup. Air cans can effectively remove dust particles from the ports, keeping them clean and free from obstruction. Take the time to care for your device's storage, and it will continue to serve you well. Regrettably, photographers fail to clean all points of contact on storage drives. In addition, be sure to keep up with new and higher performance SD cards. When SD cards are mishandled, they get damaged or bent, leading to data loss. Do you see damage to your SD flash card? It is crucial to seek professional help from eProvided's SD card data recovery experts. eProvided has years of knowledge and expertise to recover your valuable data from damaged SD cards.
SD Card Repair for Broken SD Cards.
Our experienced SD card repair engineers will recover your broken SD card. When a SD card becomes physically damaged, there are many ways of recovering data. Internally, SD cards vary greatly. They could either be monolithic or NAND. Either way, file extraction is possible with SD card data recovery.
Broken SD card? SD card recovery experts explain: SD cards aren't designed to notify users of errors. And, if it happens, figuring it out alone makes situations tense. Accidental formatting of an SD card is common. One source of accidental formatting is the camera's software. If you accidentally formatted your SD card, don't panic. If the format process took less than 5 seconds, you're in good shape. A full format that irreversibly low level formats your device takes longer than 50 seconds.
There are two ways to format an SD card. In short, full and fast formatting. Damaged SD card recovery can be prevented. When an accidental format to SD card happens, a fast format (or slow) takes place. Full formatting occurs when deleted data is overwritten, making data recovery impossible. Consumers must take caution in choosing the right format option, slow or full (low level format). Broken SD cards come in all forms. Recover your deleted data with eProvided professional SD card data recovery experts.
Considerations in choosing a microSD card. Start with a higher Speed Class.
This little circle to the left is important. The SD Card Speed Class indicates the writing performance. Also, it describes the write speed of streaming data. In addition, it explains how it saves HD video data at a higher rate of speed.
A split SD card that's not detected but has a higher class speed is more likely to hold video files. This is important if you have multiple damaged cards. Many use the higher-class speeds for shooting video. Yes, our SD card retrieval team has many such cases.
Is Your SD card not detected?
How to tell if a SD card is not detected? Formatted, deleted, damaged, and broken SD memory is common. Received an error message to format your SD card? Consult SD card recovery professionals to restore data loss. Just because your files seemed to disappear, doesn't mean they're permanently deleted. In all honesty, most cases have potential for full SD card data recovery.
Are the majority of photos stored on your SD card missing? SD card not detected, corrupted, or damaged, need to be recovered by eProvided SD card data recovery engineers. Corrupted SD card experts are just a phone call away.
Recovery software does not recognize my SD Card?
Do not attempt to use file recovery programs. Recovery software won't fix advanced SD failures, such as a broken or snapped SD card. Many photographers actually make the problem worse. Furthermore, why bother digging deeper into the hole? At this point, preserve your lost photos. Your clients want the images of this special day. Don't risk anything more. SD card data recovery services become vital in cases like these.
Micro SD card recovery services require hands-on work. As a result, you want to hire eprovided professionals. Contact us, ask questions. At the same time, get answers. Above all, make yourself comfortable.
My broken SD card has a lock or write protection. Does it matter if I try to recover data?
Your microSD card's locked, out of the blue. Consequently, the SD card's damaged. Write protection is an option one can turn on and off. Read the manual that comes with the SD storage device. SD card data recovery's needed when a user can't switch the option back and forth.
Make sure you follow the manual guidance. Test the switch for write protection. Locate the lock on the left of the SD card. Next, check that the lock switch is facing upward (the unlock state). At this point, you can't delete files on a memory stick if locked. In short, this shows card corruption has happened.
Is it possible to fix my broken SD drive without formatting?
A broken SD card does not need formatting. In fact, never format a drive unless you're sure you want to delete data permanently. Proper methods to recover data from corrupted SD cards don't require formatting files. You can fix the problem by contacting our file recovery experts. In short, file recovery, not the formatting of data, is what's required. SD card data recovery services will be successful in over 90% of cases received.
There is a distinction to be made between a low-level format and a default, industry-standard format. Therefore, if you want to delete files in a way that is irreversible, it is essential. In a nutshell, opt for a low-level presentation format. In addition, you should ask yourself, "Do I really want to get rid of this data for good?"
The default formatting options on devices vary. Some DSLR cameras have a low-level format as a default. Smartphones have default format options. Many are not a low-level format (LLF). Consequently, if you don't know, find out before you start a format operation. So, what is high-level disk formatting? It's the method of writing a file system. Also, a partition label, cluster size, and so on, for a recently created partition or volume. A split or broken SD card might not have the option to format. Therefore, always use caution in any decision you make. SD card recovery experts here can retrieve deleted and missing photos.
Can you repair a damaged microSD flash drive using the CMD option?
To begin with, some of your photographs have been lost or damaged. A microSD card can only be repaired temporarily. The CMD option on Windows is rarely useful for fixing issues involving the loss of data. We do not recommend doing so. Avoid overwriting your data in any way. At this point, you shouldn't scan anything or make any changes to it.
Here, a professional wedding photographer must stay above the fold. Preserve your photos. Do not make mistakes at this time. Consult with eProvided.com professionals who can recover SD card photos.
Corrupted Vs. Cracked SD Card Damaged, what is the difference?
In particular, is your microSD or SD card damaged? The difference between a crack and damage is important to understand. 1) Corrupted micro SD or SD cards have a higher failure rate with data recovery. 2) The storage card's damaged. In this case, there are no signs of cracks, the success rate increases by 40%. If your SD card has bent but has no visible cracks, the same goes. Damaged SD card recovery can be a godsend. If you accidentally make a change to your device, stop trying to fix it yourself, call eProvided.
Customers call us asking about their chances at retrieving files from damaged SD cards. A micro SD card broken in half does have a chance at document recovery.
Black epoxy plastic shells surround each storage unit. You might not notice the crack, look closely. If you notice a crack, call a file recovery expert. SD card data recovery experts see these issues every day. Notice a bend? Your SD card's damaged. If it's plugged into your PC or smartphone but is not recognized, you'll need our file retrieval experts.
Generally, a damaged SD card experiences two common problems.
Cracked SD card, maybe bent, mangled, etc.
Not a cracked SD card, but damaged, bent or corrupted.
Many sources, including online, Best Buy, and the manufacturer, are not knowledgeable. Cracked SD storage drives are recoverable. There are many variables. Above all, the data retrieval experts at eProvided will get to the bottom of it.
My SD card broke in half. What you can do.
MicroSD and SD cards indeed can and do break in half. Your only option now is to reach out to our image recovery experts. It's best not to make the situation worse by trying a DIY video. Firstly, put the SD card carefully into a static-free bag and then place it in a bubble-wrapped mailer. You'll need eProvided SD card data recovery professionals to help restore your critical data. Accordingly, contact your client and be honest. Tell them this will take at least a few weeks or a few months to solve. This allows the SD card data recovery experts to have proper time to diagnose and solve the case. Finally, broken SD cards do have a chance at restoration. Arguably, you must follow this advice.
When eProvided data recovery experts have defective SD cards in the lab, we attempt a data dump extraction. Trial and error takes time. Recovering lost photos is not a simple task. eProvided experts will attempt a clean dump of data sets from within the MicroSD or SD card. eProvided file recovery professionals will unscramble algorithms. In addition, we turn the dumps back into user data. Therefore, the files will be in the same state they were in before the damage took place.
Know when your SD card has damage.
When you plug in your microSD card into a card reader and download the data, a few things may happen. 1) You find photos, you see a thumbnail, but the image won't open. 2) You see a thumbnail; the image is open, but half of it is blurry. You see strangely colored lines. 3) No drive letter appears when plugging the card into a card reader. 4) The drive shows up as a new drive letter but with an improper size. 5) The file names include strange, non-traditional characters. 6) Besides, faulty SD card drives will not transfer data.
All these symptoms point to the need for an eProvided professional SD card data recovery expert. And, all symptoms require the photographer to avoid further damages to the media.
Can I learn to fix my broken SD card by myself?
Damaged microSD cards are difficult to recover from. Accordingly, years of experience and specialized tools will get you started. Read and analyze white papers about the subject online.
eProvided File Recovery is located in Las Vegas, Nevada. Questions about anything you read? Call us.
About the author: Bruce Cullen, as written about in Popular Mechanics Magazine. Bruce regularly consults with NASA. eProvided recovered the SD card data for the famous Helios mission. Bruce recently consulted with NASA on the future Mars missions. The basis was to improve data storage techniques and disaster recovery in case of a disaster. In 2023 eProvided worked on the NASA Davinci mission and The Nancy Grace Roman Telescope. eProvided has been in business for over twenty years. Clients list: The White House, the Army Chief of Staff, the FBI, Jet Propulsion Laboratories (NASA), US Special Agents, and more.